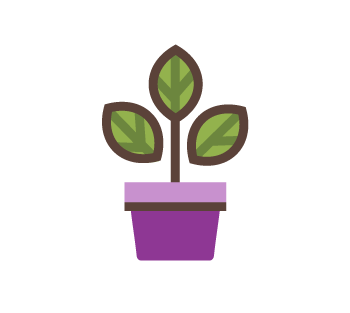 Learn More
Staff are carefully selected for their ability to understand and nurture each individual. Most of our staff have been Oconto campers themselves.
Learn More
Our staff are chosen for their leadership skills, maturity and experience working with young people. They are fantastic role models.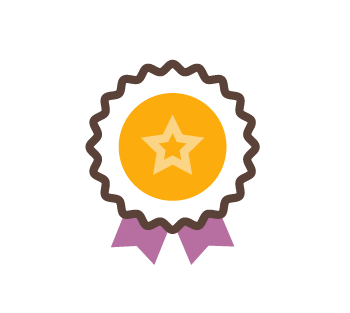 Learn More
Counsellors must have the necessary qualifications for the activity that they teach. For example, all waterfront staff have their National Lifeguard (NL) Certification.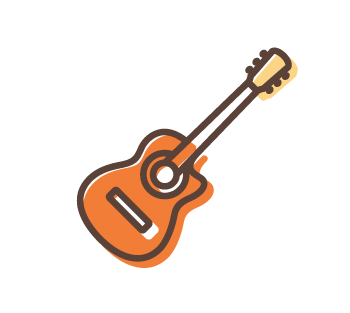 Learn More
Our staff know how to make anything a fun and exciting experience- from canoeing in the rain to making up a dance routine! Music, dance, drama and visual arts are an important part of Oconto's program.
An Experienced and Prepared Team!
The vast majority of our camp counsellors are eighteen or older and most have completed our two-year counsellor-in-training program (C.I.T.).
Staff members arrive at Oconto a week before camp opens for their in-camp training program. They review camp routines and traditions, refresh their skills, and plan great programs for the summer! The week ensures that all the staff members come together as a team to offer campers the best possible experience during their time at Oconto.
Health & Safety
Health and safety are, of course, a top priority at Oconto. We have two nurses on site, while camp is in session. There is usually a doctor or nurse practitioner (NP) as well.
CAMP OCONTO
Section Heads – 2022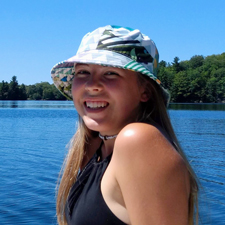 Bronwyn
Program Coordinator
Hey Oconto!! My name is Bronwyn and I am so so excited be your Program Coordinator this summer! This will be my 11th summer at camp and I know it's going to be the best one yet. I am currently in university studying Biomedical Science but I am so ready for summer to start so that we can be back at camp together! My favourite activities at camp are Sailing, Canoeing, and Diving, and I absolutely love the monther play. I can't wait for more dance parties, sing-alongs, theme days, and dress-ups this summer and I am counting down the days until I get to see you all on Eagle Lake!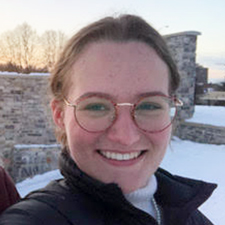 Claire
Tads
Hey Tads! My name is Claire, and I am so excited to be your section head this summer! This marks my 15th summer at Oconto, and I am so lucky to be spending it on the sunny shores of Eagle Lake with all of you! When I am not at Camp, I can be found at Acadia University in Wolfville, Nova Scotia, where I am studying Community Development. While I love school, Camp is my absolute favourite time of the year! I can't wait to be back in the water, at the barn hanging out with the horses and searching the forest for the Oconto Fairies. This summer is going to be filled with so many laughs, awesome dance parties and maybe even some magic!! I cannot wait to spend the summer having fun on top of Tad Mountain with you!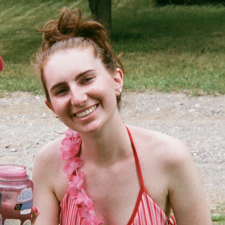 Charlotte
Chips
Howdy Chips! My name is Charlotte and I am so unbelievably thrilled to be head of Chips this year! This will be my 11th year at camp and I cannot wait to make it the best one yet! This upcoming spring I will be graduating from the University of Western Ontario with a B.A. in Gender and Women's studies and I can't think of a better way to celebrate my graduation then going back to my favorite place on earth for the summer! My favorite camp activity is Drama and nothing makes me happier than a spontaneous dance party or a wacky dinner dress up – so as you can probably guess silliness and fun are a top priority for me! Oconto has changed my life for the better in so many ways and I can't wait to help share its magic with all of you! This summer is going to be a blast!
Talia
Eagles
Hey Eagles!! My name is Talia and I am so happy that I get to be your Section Head this summer! This will be my 12th summer on the beautiful shores of Eagle Lake, and every year has been better than the last. In the spring, I will be graduating from Queen's University with a degree in Environmental Science. At camp, kayaking holds a very special place in my heart, and luckily Turtle Bay is only a few steps away from Eagle Section. I am beyond excited to sing our cheer at the top of our lungs, do ridiculous dress ups, bond in the Rock Garden, and hopefully teach a few of you how to roll a kayak! I can't wait to see all of your smiling faces and experience the magic of camp with you this summer!!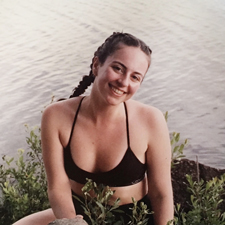 Emma
Ints
Hi Ints! I'm Emma, and I am pumped to be back at camp as Head of Ints this year! My favourite summers out of my 11 years at Oconto have been spent as a camper or staff in Ints Section, and I can't wait to spend another summer with the Ints! I recently graduated from the University of Ottawa, where I studied Biomedical Science and specialized in Neuroscience, and I hope to one day practice as a family physician. While I love learning at school, camp is my absolute favourite place in the entire world. When I'm not hanging around Ints Section, you can find me practicing my swimming strokes in Eagle Lake, doing wacky jumps off of the diving board, or peacefully painting down at Special Arts. I truly can't wait to spend time with all of Summer 2022's amazing Int campers; get ready for the best year yet!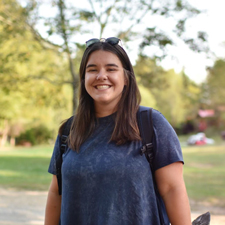 Megan
Seniors
Hey Seniors!! My name is Megan and I can't wait to be your section head this summer!!!! This will be my 13th summer at Oconto and I can't wait to spend it with all of you! When I am not at camp, I spend the rest of my year studying at Brock University in St. Catherine's where I am in their Concurrent Education Program to become a Teacher. However, I prefer spending my time on the shores of Eagle lake! There are so many amazing things about Oconto, but some of my favourites include Canoeing, Special Arts, Dress ups and Thursday Evening Campfires! I cannot wait to meet all of you and to start making tons of new memories together this summer!!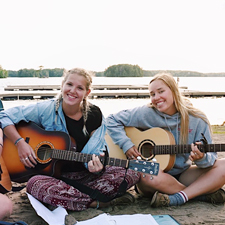 Erika & Mackenzie
QCs
Hey QCs!! We are so incredibly excited to be your Section Heads this summer! We were QCs together in 2015 and can't wait to be back living in QC Land, hanging out on the platforms and planning wicked QC All-Camps with all of you. We are so excited to help you become the best staff members you can be!!
This year will mark Erika's 13th summer at Oconto and she can't wait to spend it on the water bonding with all of you! Erika graduated from Western University in 2021 with a B.A in English and French though has since returned for Teachers College! While she loves school, Erika's absolute favourite part of the year is being back at Oconto. At camp, Erika's favourite activity is Kayaking and you can often find her rolling in Turtle Bay!
This summer will be Mackenzie's 15th year at camp and she is thrilled to be spending it in QC Land! Mackenzie recently gradated from Queens University where she received a B.A in Film and Media Studies. Camp is her favourite place in the entire world, and she absolutely loves swimming in Eagle Lake, doing wacky dress-ups for dinner, and performing at Sunday Evening Concert!
QCs is such a wonderful year full of growth and opportunity, and we can't wait to be running engaging sessions, taking B&Ps, and helping you make this the most memorable summer ever!
Meaghan
Semis
HEYOOOOO SEMIS!!!! As you may already know, my name is Meaghan and I am BEYOND excited to be your Head of Semis this summer. Last spring, I graduated with a honors specialization degree in MIT at Western University and have since been getting my event planning degree in Toronto. So, it's safe to say I have already begun planing some great sessions, exciting bonding activities as a group and some fun B&P's! Semis was my favourite year as a staff and I'm thrilled to be able to see you all become remarkable counsellors to your campers. I hope school is going well this year and I CANNOT WAIT until we're back together again at camp ??. Let the countdown begin!!!
Emily
Assistant Director
Hello Oconto families! My name is Emily Pepper and I am thrilled to be the Assistant Director at Oconto for Summer 2022! I started coming to camp as a Chip back in 2006 and over the years it has become my summer home. I love to see campers reaching their goals, making lasting friendships and enjoying the outdoors! Beyond Oconto, I am currently a second-year Midwifery student at McMaster University and am loving learning about the world of pregnancy and birth! I also love to be outdoors, eat brunch, and make crafts when I'm not busy being a student. I could not be more excited for camp and to spend another beautiful summer on Eagle Lake!