Frequently Asked Questions

Is my daughter ready for camp?
Each individual is ready at a different age. Some girls are ready at 4, some at 12. We strongly suggest you do not wait until she is older than 10. If your daughter likes to be with people, try new things and have fun, have her try a couple of sleep overs at a friends house; you will know the answer.
It is normal to feel nervous about going into a new situation, when you potentially know very few people. Give her some strategies to cope with this. We will send more details in April.
What is a zebo?
A type of accommodation invented by Oconto. Four, sometimes five girls live in each one, probably about the size of your daughter's bedroom – campers don't have to go far to see their friend! They have a wooden floor, wooden roof, two wooden side walls, and a back wall totally covered with secure screen, as well as two panels at the front with a door in the middle. On top of the screen there is red waterproof fabric that can go up like a venetian blind when the weather is nice, and be let down for those liquid sunshine days! The feeling of being in a tent with the security of a solid roof, door and a bed!
Does the camp use flush toilets or outhouses?
There are a number of washrooms with flush toilets conveniently located throughout camp in close proximity to cabins and zebos. Each section has one central washroom, and there are separate junior and senior shower houses.
Can I arrange to tour camp with my daughter before summer sessions begin?
Yes, we would be happy to arrange a tour of Oconto prior to the summer sessions. The ideal time for this is Monday to Friday, May 15 to June 15. An open house weekend is available in June, you are welcome to come for a tour! Please contact the camp office for details. Staff will be available to escort you through the facilities and answer any questions. If these dates do not work for you, please contact us in the Markham office and we will schedule a tour at another time.
My daughter is a 'classic picky eater', will she go hungry?
We have a wide variety of choices at each meal. Meals are served family style and campers are able to make up their own plates.
Breakfast is always a hot meal (pancakes, eggs, sausages, etc) and can be supplemented by cold cereal, toast and yogurt. Lunch and dinner are also generally hot meals (spaghetti, chicken burgers, pizza, turkey dinner, etc). At both lunch and dinner, campers have access to a salad bar that allows for some variety and relief for picky eaters that are uninterested in the main dish.
We can accommodate vegetarians as well as most food allergies. Please be sure to indicate any dietary restrictions on your registration form.
May I call the camp and speak to my daughter to hear how she is doing?
We have one telephone at camp, which is limited to camp business only. Please do not send a cell phone with your daughter. With the exception of international campers or emergency situations, campers cannot make phone calls or e-mail. Likewise, we do not encourage parents to call camp to talk to their daughters.
From years of experience, we have found that girls who are involved, busy and having a great time can be easily distracted by a call from home. We want the focus of camp to be on camp, activities and friends, not on when the next phone call is coming. If emergency or "bad news" circumstances arise while your daughter is at camp, a personal trip to camp or a phone call may be necessary.
Please contact Bronwyn to discuss the best method of relaying information and what is in the best interest of your daughter. Sometimes, delaying the information until she returns home may be an option.
Is Camp Oconto accessible for children with physical disabilities?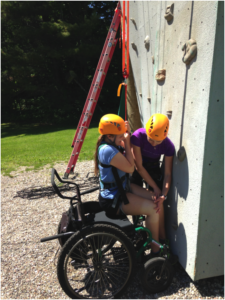 Yes. Camp Oconto has partnered with Camp Awakening to provide a large range of activities and a dedicated accessible cabin & equipment.
The goal of Camp Awakening is to create an opportunity for youth with physical disabilities to make friends with other campers just like them and accomplish things they never thought they could. Visit Camp Awakening's website to learn more.
Do you accept international campers?
Yes. We love having children from all over the world. It is amazing how quickly children learn a new language. Sharing your culture with others at camp helps us realize how how different kinds of people can live together.
Travel
If you would like us to pick up or drop off your daughter from the airport, it is imperative that flights are arranged to and from Pearson International Airport in Toronto.
We will give you preferred specific times and/or flight numbers. Your daughter will need to arrive in Toronto the day before her camp session begins.
We prefer to have your daughter leave Toronto after 12 noon the day camp closes. In this way she can experience all the joys of the last night of camp, and still get to the airport.
The cost of our chaperone service for one way travel to or from camp is $120.00. The drive to camp from Toronto takes about 3.5 hours.
We will plan to pick your daughter up, with any other girls arriving on the same flight, or from other cities about the same time and travel straight to camp.
If you want your daughter to see other parts of Canada while she is here, you will need to make your own arrangements. Please note that Oconto is about 1.5 hours from Ottawa, and 3.5 hours from Montreal. We are happy to make suggestions for family travel before or after camp, but we cannot assist with arrangements.
Visitors' Day
For campers staying at Oconto for one month, there is a visitors' day after approximately two weeks, on the Saturday. Most children have a visitor, but some do not.
Bedding and Towels
We are happy to provide these for your daughter while at camp, so she does not need to bring them from home. We will ask you to confirm that you would like to use this service.
Life Jackets
We will provide a life jacket for your daughter's use while at camp and will put her name on it. We will ask her to leave it behind when she leaves camp.
Riding Equipment
Long pants such as leggings are fine; boots with a 10 cm. heel such as rain boots work well, and double duty for the rain. A helmet that fits your daughter is essential.
Emails
We have a service for you to send email to your daughter while she is at camp. They will be printed and given out with the regular mail. Your daughter can write regular letters and we will scan and email them to you.
How will meals work?
Our food is served family style, which means each table of eight campers and two staff gets a platter of each part of the meal (e.g. one plate of the main course, one plate of veggies, one plate of salad, etc.). Everyone is served a first helping, and seconds or thirds are available to who ever wants them. If a platter is emptied, you can take it up to the counter and the kitchen staff will refill it for you. There is lots of yummy food!
What kind of meals will I eat at camp?
Just like at home, you will be eating three meals a day: breakfast, lunch and dinner. At breakfast, there is always a hot option and a cold one. There is a box of cereal on every table every single morning as a cold option, and there is often also granola or yogurt. The hot items include things like pancakes, French toast, waffles, scrambled eggs, sausage, hash browns, muffins, and more. On Sunday mornings we eat what is called a Baker's Breakfast, which includes lots of tasty things like croissants, cinnamon buns, and special muffins. There is always fruit, juice and hot chocolate too.
Lunch is sometimes hot and sometimes cold. We eat things like hot dogs, pizza, chicken burgers, and make-your-own sandwiches. There is always a salad or veggie sticks on the side. Lunch ends with fruit for dessert.
Dinner is always hot. It is typically a meat, vegetable and potato combination but we have lots of variation. Some of the most popular dinners include lasagne, spaghetti, fajitas, tacos, and turkey dinner with stuffing. There is always a fresh salad or a hot vegetable side. Dinner ends with a tasty dessert, anything ranging from popsicles or freezies to cookies, cake or pie.
What are the other girls like?
We have girls come to camp from many places. About half come from the Toronto area, many from Kingston, Ottawa, Peterborough, Quebec, some from the States and lots of other cool places like England, France, and Mexico! You will be with other girls about your age, and with forms you fill out online, we do our best to put you with other girls we think you will have a ton of fun with! It is like recess all day – you get to know your camp friends very quickly because you are together playing A LOT, eating and hanging out too. It is pretty rare that you have to sit and listen. You basically play all day! Many camp people have found their best friends to be their camp friends.
Can I be in the same zebo as my friend?
On the application form, there is a question about who you would like to live with; write down your friends name and have her write down yours. You may want to give us a few names to make sure we have some choices. There are only four, sometimes five girls in a group, so realize that we will do our best to put you with one of your friends, not the whole group! Camp is about making new friends and keeping old ones. If you come to camp to stay with girls that you already know, you won't branch out much; there are a lot of nice girls to meet, so this gives you an easy way to meet them!
Who will my counsellor be?
Our counsellors have usually been Oconto campers themselves and completed the two-year counsellor in training program. They are either in their last year of high school or university students. The main priority for anyone working at Oconto is to love working with kids, and to give their campers the best summer possible. They also have all of their certifications to teach you their activity in a way that makes sure it is fun and safe. They are all very special girls!
Do the toilets flush or will I have to use an outhouse?
We do not have outhouses – all of our toilets flush! However, if you choose to go on an overnight trip you will have to dig a hole to use as a toilet.
Where do I shower?
There are two shower houses in camp – one at each end. They both have hot water and are available to be used at all free times. Each shower house has about five indoor showers and four outdoor showers, each with their own private stalls big enough to accommodate your clothes and towel without getting them wet. There is lots of privacy!